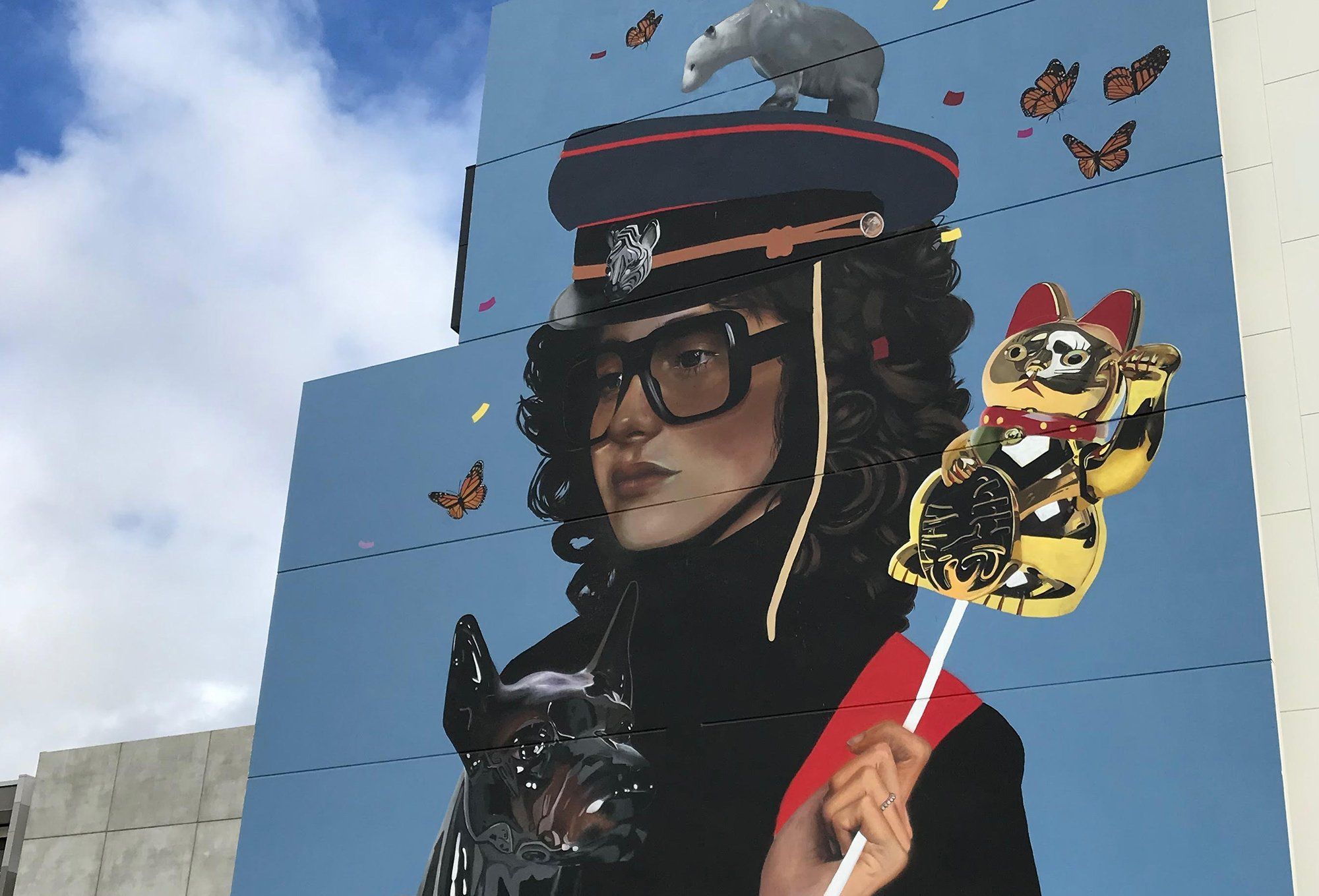 IN CONVERSATION: LISA KING, ARTIST
0 comments
"I am like a young girl blinded by the light, chasing butterflies over the edge of the cliff...."
Lisa King is a busy, driven woman with a talent cup that runeth over.  She paints large scale murals that stop you in your tracks.  She co-founded + runs Cult + Harper Gallery in Adelaide with her partner + co-creator, Jarrod Jackson.  She stands up + speaks out on animal rights - and handles the requisite criticism that can come from such views, with unflinching grace.  Lisa has been supportive of Sans Beast from the beginning + couldn't be a better choice for the first artist we talk with, on The Creature Blog.   Cathryn asked Lisa a handful of questions to learn more...
SB: You're a trained graphic designer, yet moved into painting for the reward of greater creative expression.  What drew you to the large format of murals? 
LK: I have always loved larger than life fantastical statement work. I remember in my high school years the deputy principle saying to me "you are always trying to make a statement Lisa".  You know those moments / words that always travel in your pocket from something that resonated deeply with you…. I think she was right, even though I did not understand it at the time I definitely think about it a lot in my adult years. Large scale mural and installation work, have always held my heart by the crotch. I am like a young girl blinded by the light, chasing butterflies over the edge of the cliff so it was always going to likely be inevitable that if given an opportunity to paint in the arena, I might fall deeply in love with the practise of it.
SB: With International Womens Day just having passed on March 8 – albeit being 'our' day every day of course – what are your thoughts on women in the art space over the centuries? Is it the Age of Athena we are living in, or are there still barriers to entry that you see?
LK: This is such a hot topic for me daily as a female artist. If I was to gauge an outcome based on my experience at this very given time, I would say we still have a lot of traction to gain, and walls to make and break. I think globally overall we are making progress in the area of gender equality, but unfortunately there are still locations dictated by old tradition and outdated logic. My own experience as an artist wanting to constantly talk openly and honestly about my struggles as a female in the arts still gets dampened down by men very often. Whether it is openly through conversation / social trolling, or just a cold heavy weight in a room where the energy needs no words.
For me, it can very often be confusing as an artist in the public eye, as I want to succeed and be given opportunities to produce work and express myself at the pinnacle of my craft, but then I feel utterly oppressed by the often, unfair imbalance, and want to break out of the box and yell THIS IS FUCKING BULLSHIT.  It feels damn good when I do, but soon after I am left with social guilt or regret, because I may have just lost some opportunity, by being labelled as an irrational, loud mouth, man hater (lol). Ideally it would be nice not to have to get outraged and kick dirt around. Ideally this would not happen if I did not have to put up with disadvantages due to my gender. Conclusively I guess women (and all individuals who identify as female / cross gender / androgynous etc) are definitely not yet living in an ideal world of equality where we feel at peace with our rights.
SB: I feel that art in the public space is an act of generosity + democracy.  Everyone can see + enjoy it, or at least have it permeate their senses in some way. Despite most galleries being free – some people are intimidated by the façade of the art world + won't step foot in a gallery/museum.  When the visual feast is outside + public – it becomes a part of the every day.  What is the deciding factor for what you paint on the murals / how does the commission process work / do you have a lot of scope for giving flight to all of your own concepts?


LK: I think this might be one of the hardest things about being a muralist or artist of urban aesthetics. Like any other medium, you really want to have full control over your canvases and expressing them or being honest to your visions, but often clients have a specific idea in mind, generally because they see it as an ownership thing and want to be somewhat involved in the process. There are so many layers to the delivery of a mural, including the client and public needs, and it can take lots of compromise from either end - or sometimes, the job not even going ahead. Very often I will refuse a job because it does not feel right (I listen to my intuition now) and the clients expectations are too far of a reach. I have done a few well paid jobs where I have responded 100% to the clients needs, with no push on the creative control from my end - those almost made me want to throw in the towel and it left me feeling very sad and confused. I get really disinterested and distracted in a job if I am not completely engaged and immersed in it personally.


SB: Do you think about the audience seeing the work every day – do you burden yourself with concerns over what people will think?
LK: I think conceptually even though I say I like to build my work as honest as possible, I do have the public / audience sitting in my subconscious - but once a mural is complete I detach very far from it.  This happens very organically. I do often get social media trolling, but I am learning to grow thicker skin and realise everyone's a critic, I guess without it, the arts would be nothing.
SB: I read that you're inspired by the Renaissance – perhaps a hint to the answer on the earlier mural question? - a period in art/culture/world development that has always inspired me - what draws you to this chapter in history?  Given the tech advancement that has occurred over the last 15 years - do you think we will look back on current times as a Renaissance, or, given the vast inequality existing in the world – animals + humans alike - as another Dark Ages?  
LK: Scary times indeed - and I do love the renaissance so much. I think the digital world plays such an epic part in contemporary art these days, especially in the conceptual side of things, and as someone who uses a computer a lot for image experimentation / making, I can often feel somewhat guilty (the grass is greener) but then I always remind myself that all we are doing is reflecting an era, and like any other period of artist movements, it's almost 'a must' for the history books. In saying this however, I recently did a master class in painting from life, and it was just so stripped back and honest and beautiful - it totally realigned me with some values to my practise. I cannot imagine humans ever letting that raw state of the human condition, in a practise, ever fading.
SB: I have found the honesty of your IG posts very powerful.  Specifically the posts around animal welfare.  Do you find your words are respected or is there a negative response in the community for these views?  
LK: It is getting a little better and more well received as I gain a larger, more contemporary and empathetic audience to my work. It is such a hard topic  unfortunately - however, one which I feel should not be in the slightest bit difficult to comprehend. I mean, of course undoing the conditioning of human aspects takes time, so I get it from that perspective, but in my opinion stating facts that are 100% logical and relative (not to mention ethically and morally right), should never be put in a box. I take great pride on honesty (I am not sure whether this is something I grew into from a child to adult, or that I constructed over time as an imperative element to creating work.. maybe a little from column a and a little from column b - but i think it is a positive thing). Basically I feel very deeply about the notions of "if I have a voice and a platform for people to listen, then I kind of have a responsibility to speak and create conversation around the unjust issues of the world". The lack of empathy / equality to all sentient beings is at the forefront of my focus along with feminism.  I still do get a lot of backlash, but I am learning to be more calm and realise that it is usually an individuals' natural defensive state about the enlightenment to a horrible trade they support and participate in. It is quite hard to navigate the translation of such dark information, but I think I am getting better at it. I always come back to the belief that it is just best to be me, which is honest and empathetic.
SB: How did the Cult + Harper concept come into your vision, and how does this (incredible) space work in with your art practise – ie how do you manage the oft strange bedfellows of art + commerce?  
LK: The concept came about while I was having a 6 month period, working on the future of me being a painter, and the self doubt as to executing it. The ideas started by being bored and initiating an online creative agency. I built the website, engaged and signed up some wonderful talent… but did not follow through with it. About 4 weeks later a space for a property activation initiative called Renew popped up in my email in an understated (but amazing) port in town. Myself and my partner / co creative, Jarrad Jackson came to the inspection and fell in love with it, so we decided to build a similar concept to the agency, but in a space with a community ( a 500 sq/m co-working warehouse for creatives built by creatives). I got to build my own art studio here from walls up, so it is wonderful to be able to really feel so free in an environment that is mine.  A safe place for the radical and somewhat challenging creative process, without any form of censorship. I utterly love being busy working as a creative and pushing boundaries / new ideas, so even though it can be somewhat hard, switching from management of the venue to the easel, I love it all very dearly.
I feel very blessed to have been able to create a plant based contemporary and inspiring space with my partner and other vegan creatives.
We made our venue meat free last year (no meat whatsoever can enter the premises) as a mark of solidarity with all sentient beings and cruelty free, conscious businesses. We also just built a cafe at the front and sub-let it to a wonderful vegan baker called Cherry Darlings. Basically you can come in, sit and eat the best, award winning vegan pies in Australia with a strawberry milkshake, while overlooking the historic streets of Port Adelaide. You can wander through the art gallery, use our professional cyclorama, artist studios or hot desks. We really just love having such a contemporary space (in what can be a bit of a dusty ol' town) where the vegan community can come and be a part of everything creative and on top of the game.
SB: If you could paint on any grand surface in the world – wall / building / road…anything – where would it be?
LK: While these horror vessels still exist - a Live Export ship. That would be a political, creative dream. 
SB: Now for a simple but necessary question - where are the go-to vegan food haunts in Adelaide that you can recommend?
LK: OUR PLACE! Cult and Harper houses Cherry Darlings Bakehouse (the best pizza pies and milkshakes you have ever had, no joke). V Spot Pizza, Metta Sol (Vietnamese), Staazi and Co (Greek Food Truck around town), Pure Vegetarian (Central Markets Food Court), Sukh Sagar (vegetarian / vegan indian street food), Vego and Love'n It (a small but historical vegan establishment with the best Mex burgers), Two-Bit Villains (dirty burgers), Crux (breakfast/brunch), Salem (smoked, grilled, junk food), Nagev (breakfast / brunch) Hispanic Mechanic (vegan options), Tony Tomatoes (modern pizza vegan options) + a fantastic (and favourite) place called Midnight Spaghetti - heaps of vegan options here.
SB: Final question!  We are just at the beginning of 2019, however given the size of your projects, you no doubt have ideas planned for remainder of the year + into 2020.  Are you able to share any plans with us? 
LK: I am really keen on pushing my traditional painting / observational skills further this year in the studio with some heavy delving into conceptualising my voice more distinctly / uniquely. I am heading into some fab projects with Volcom (with the most exciting coming up in April on the Gold Coast) - and I am just going to keep painting them big beautiful walls and surfaces. I plan on being overseas next year for work, but not sure as to where yet. I'm definitely keen on focusing on being a better and more serious painter overall.  I also have a solo show opening at Juddy Roller Gallery in Melbourne. It's titled "Politely / Political" and it opens April 26. 
10 Quickfire questions:
Michelangelo or DaVinci - Michelangelo 100 percent
Rome or Florence - Rome for the art
Jewellery or shoes - Shoesss
Breakfast or dinner - DINNER <3
Kindle or paperback - Paperback, ALWAYS
Train or fly - My fav thing to do is fly.
Hey or Hello - Hey beb
Whisky or wine - I am so sorry, but I cannot make this distinction.
GOT or Twin Peaks - Twin Peaks
Morning or night - Morning (ONLY after coffee).
0 comments