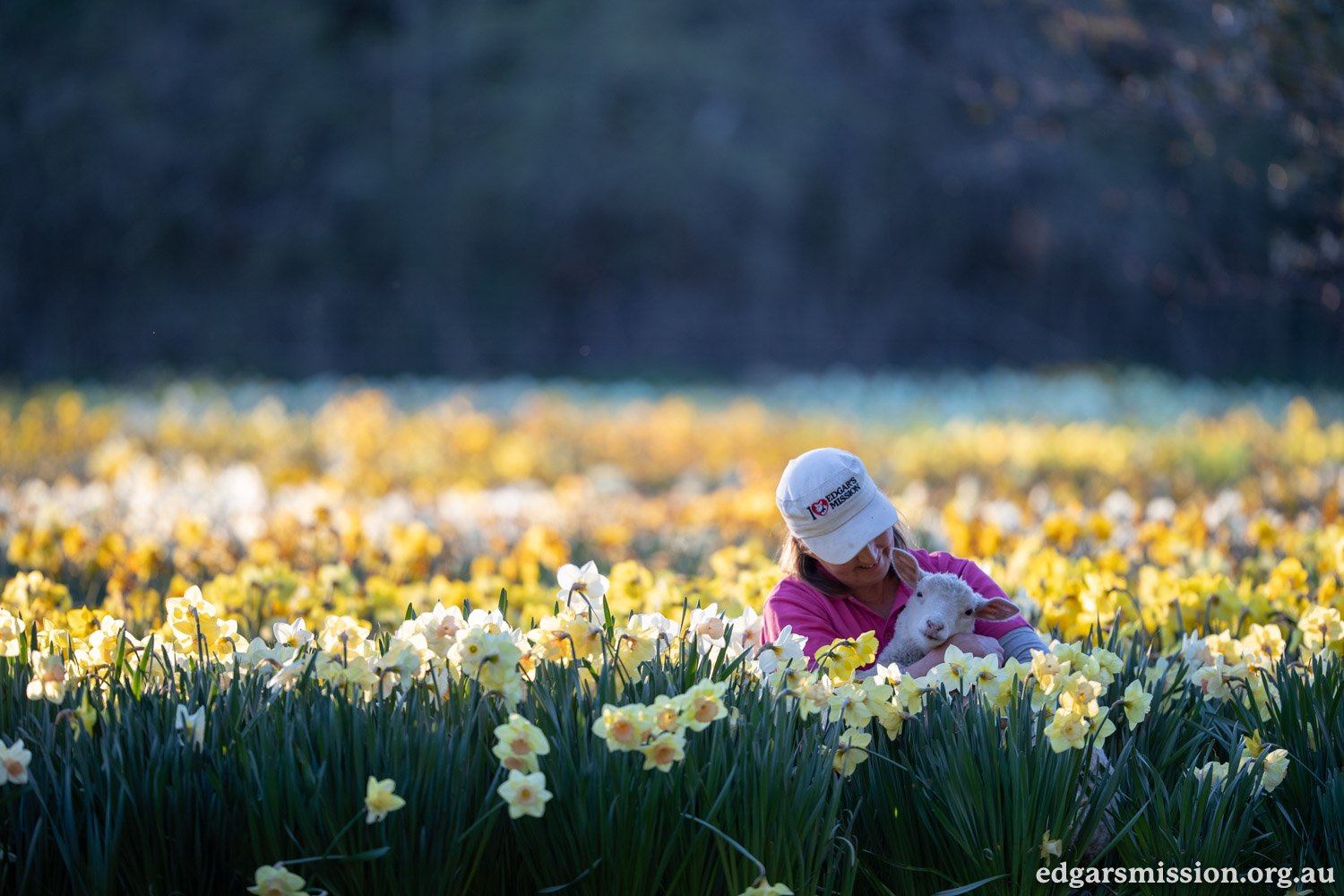 IN CONVERSATION: PAM AHERN, EDGAR'S MISSION
0 comments
EDGAR'S MISSION IS A SANCTUARY + A HAVEN FOR RESCUED FARM ANIMALS IN LANCEFIELD, ABOUT AN HOURS' DRIVE FROM MELBOURNE. FOUNDER, PAM AHERN + THE DEDICATED TEAM, DO EVERYTHING THEY CAN FOR ANIMALS IN NEED + IT'S ONLY THROUGH DONATIONS THAT THEY ARE ABLE TO CONTINUE THEIR IMPORTANT WORK.
Edgar's Mission have been a part of our commitment to give back to animals from day one. Recently we had the opportunity to catch up with Pam to talk about the incredible work the sanctuary does + the inspiring story of Edgar Alan Pig, the pig who started it all.
I will never forget the journey home. Edgar sulked all the way refusing to eat his apple. First lesson, pigs can be such drama queens. Attempting to put my newly acquired pig handling skills into action I softly cooed, "come here Eddie" as I offered my upturned hand. But alas despite the many treats, toys + wonderful bed on offer, all failed to entice Edgar from the carrier and my love was still unrequited.
Stretching further in for that back leg as I had been instructed earlier, Edgar scooted away as fast as he could, retreating to beneath the straw.  Undeterred I reached in, found the leg + pulled Edgar from his hidey hole as he screamed the most blood curdling + human like scream I have ever heard. "What to do now?" + although my heart told me to stop, my head soldiered on as I continued to carry out the manoeuvre, seizing his other leg + hoisting Edgar up. With the blood now rushing to his head once again, all noise stopped, + he just hung there with a blank look in his eye. He did nothing, just hung there.
Learned helplessness quickly sprang to my mind, struggling to make sense of it all –  "this is wrong, so incredibly wrong". As I gently as I could, I lowered Edgar to the ground, he scooting away again, then pausing, + contemplating his options before he turned + stared back at me, his back hunched offering a look I never wish any animal to ever send my way again.  And I pledged then and there I would never again cause them to do so.  And yes, I have learned pigs truly do contemplate. Often you can see this at play, pausing in the moment to take in and consider their options before acting. We humans are most definitely not the only species who can do this.
So how to hold a pig? Well over the years I have worked hard, studied long, observed well + learned many things about pigs.  None the least is they are indeed incredibly intelligent animals. And if you want to a pig to be something, best to work out how this can be achieved on their terms, not yours. Their smarts are so keen.
And clean, oh my pigs are so so incredibly clean. Except of course if they have just trashed your kitchen! But seriously, given the chance they will not urinate or defecate where they sleep.  Honestly if the many horses in my care in my former life as an equestrian had such powers of personal hygiene, I would get several years back of my life from the many hours consumed toiling their stalls.
In fact, the more I learn about pigs, I see they are more like us than we care – or should I say dare – to think. But most of all, what I have learned about pigs is the best way to hold them is in your heart.
0 comments