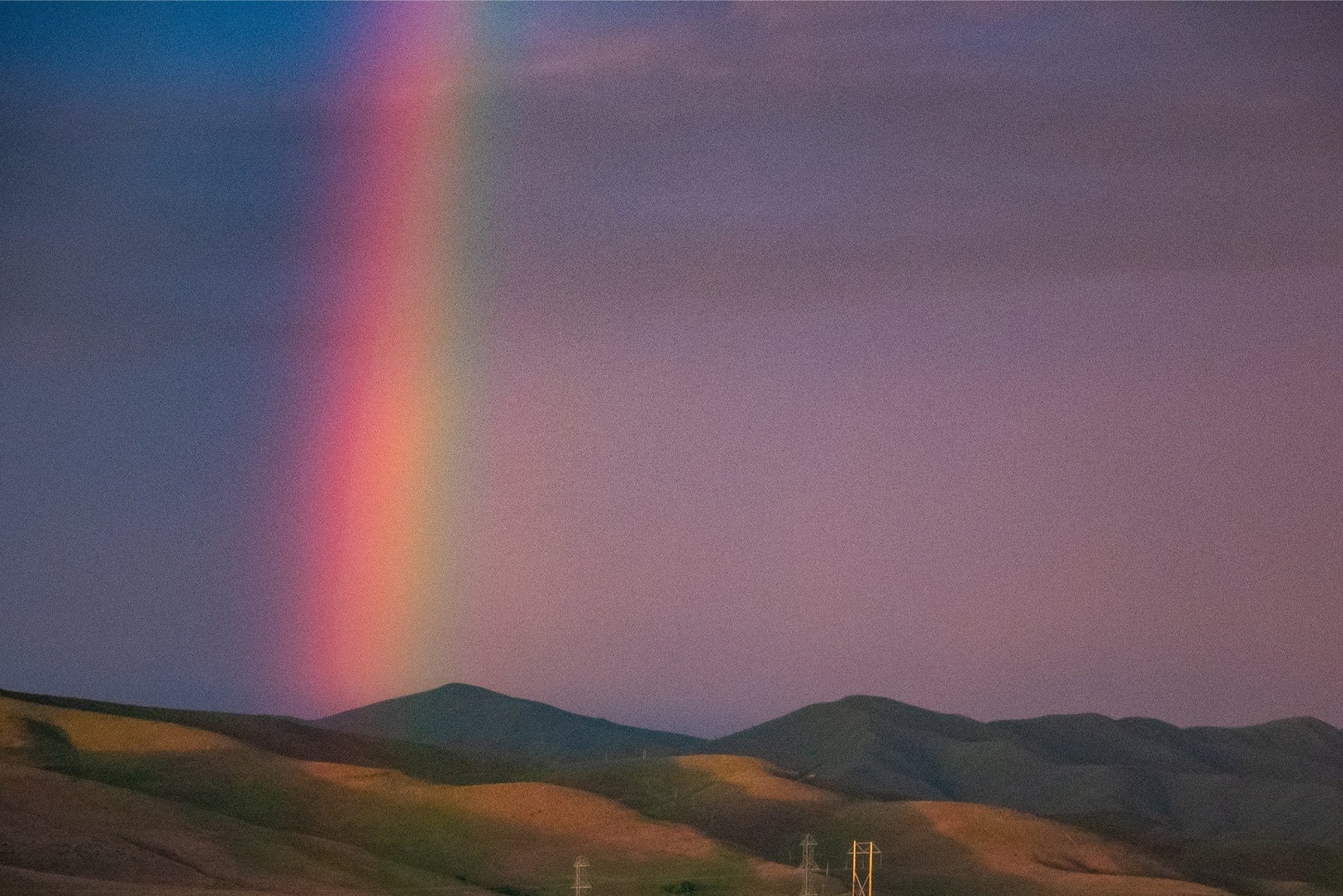 INSPIRATION: RAINBOWS + RESILIENCE.
0 comments
AT THE START OF 2020 WHEN WE WERE BUSY MAKING RESOLUTIONS OR MANIFESTATIONS + FIGURING OUT WHAT WE THOUGHT BEST TO LEAVE IN THE PREVIOUS DECADE, WHO COULD HAVE IMAGINED WE'D BE WHERE WE ARE NOW? IT'S BEEN A YEAR OF STRESS + ANXIETY FOR MANY (MOST?),  BUT IT'S ALSO BEEN A YEAR OF INSPIRING DEMONSTRATIONS OF BRAVERY, COURAGE + RESILIENCE.
I don't think anyone around the world will look back + think that this year has been the brightest of planetary rotations. People have suffered unimaginable heartbreak + loss at the hands of COVID-19. We have also seen a global recession unlike any of the past century which has led to massive job losses + incredible financial strain.  The tragic killing of George Floyd reignited the BLM movement + we all joined hands to protest the treatment of BPOC in society - and take it on ourselves to be educated as to what white privilege means + how we can truly be allies.  All of us will come out of 2020 changed in some way.  And as we all know, change can be uncomfortable, scary + confronting.  
One thing we've learnt at Sans Beast is how important it is to strive to remain creative, inspired + most of all positive, even when you feel like climbing under that doona + coming out in December. That's not to say you're not allowed to have times where you don't want to get out of bed, or you spend the day wallowing into a tub of (vegan) ice-cream or a bottle of wine depending on your poison (aaaand the time of day).
The truth is all of us have had to find ways to weather the storm that has been 2020 (thus far).  The thing about storms is that at some point they have to end - and clearer skies typically follow.  We can all feel that Spring is getting closer (in Oz) + sooner or later the world will begin to bloom again. 
We know ISO tips are coming at all of us thick + fast.  And yes, we are going to add ours too - who doesn't need more tips, tricks + tools? These are a few of the things that have helped us stay focused, positive + entertained during this isolated + isolating period in our lives. 
SHUT YOUR EYES + LISTEN
Music or podcasts have the power to transport us.  I've gone old school, listening to The Rolling Stones on vinyl, plus my ever faithful favourite, Harry Styles.  Cath is listening to
The Plant Proof Podcast
 for insightful interviews about nutrition + Jen loves 
Armchair Expert with Dax Shepherd
, a series of deeply honest, refreshing + vulnerable conversations where the actor explores the "messiness of being human".  Em, our resident true crime fan, is listening to 
Crime Junkie
 for brilliant storytelling + an escape from the ordinary.  A few more that came up in conversation : 
The School of Greatness
 - Lewis Howes talking to different people about how to live a great life.  
Unlocking Us
- Brene Brown doing what she does best - inspiring us all to connect; both with others + ourselves.
Under the Skin
- Russell Brand being fabulous + having compelling conversations with plenty of interesting folk.  Literally asking, what's beneath the surface?
Never Not Creative
- A bunch of creatives working together, to share stories about creativity.
The BOF Podcast
- For anyone interested in the business of fashion, this is one of the best podcasts to tap into. 
The fashion industry employs between 60-75 million people across the globe
.  It's not all frills + flounces that's for sure. 
1619
- A New York Times (brilliant) podcast that takes the listener on the journey of slavery in the United States + the enormous damage systemic racism that still exists today.  Whilst this podcast is about the history of the US, we as an Australian business know that there is a dark history in this country also, and the events of 2020 has led us down a path to learn more.  
The Art of Inclusion
- a podcast that discusses + promotes inclusion; the episode on constitutional reform in relation to the First Nations people of Australia is particularly resonant.
VEGAN EATS
Let's be honest, being stuck at home for an extended period of time has meant that food has been very much front of mind. Never fear, I'm not going to give you yet another banana bread recipe (banana bread, in iso - groundbreaking).
Comfort food has been key + it's meant something different for all of us. Cathryn has been enjoying her partner John's chickpea casserole (even more so because she hasn't had to cook it herself). John says he doesn't follow recipes, but I've popped a link in, for those who are not inclined to freestyle in the kitchen.  Jen has taken advantage of all the iso birthdays by perfecting her Vegan Lemon Cake. Vegan Nachos are where it's at for Em who says they're best served cold + alongside margaritas. 
Personally, when I've decided cooking is a bit much I've been ordering FairFeed - value meals created by out of work chefs + delivered by hospitality workers who have lost their job as a result of COVID-19. They have an extensive vegan menu + my fave dish is Ollie's Dope Dahl. Plus the good they're doing for the community takes away that "But I have food at home" guilt.
FINAL WORD
I asked the team to share words of wisdom that have helped them through this time.  For me, I've learnt it's so important to back myself - in life, in relationships + at work. This year hasn't been easy but it's made me so much stronger + more able to articulate my worth + my value.  A quote I like is "keep taking time for yourself until you're you again" + if there's one thing we have in iso, it's time. Cath meditates + goes for long walks when things feel overwhelming.  She tells me it's a cliche - but lives by the idea of 'this too shall pass' when she's too bogged down with daily stresses.  Jennifer is a Brene Brown fan + favours this quote:  "It's not joy that makes us grateful, it's gratitude that makes us joyful".  Em finds focusing on the small pleasures + moments in life has helped her.  She likes the idea of "be accountable, be thankful."
Whatever you're feeling right now - we hope you're managing to find some joy to hold on to.  We're here (albeit in our own #WFH situations) + working diligently on building this Sans Beast world, one cruelty free handbag at a time.  Sending our community much love as always.  
RHI + STUDIO SB XX
0 comments