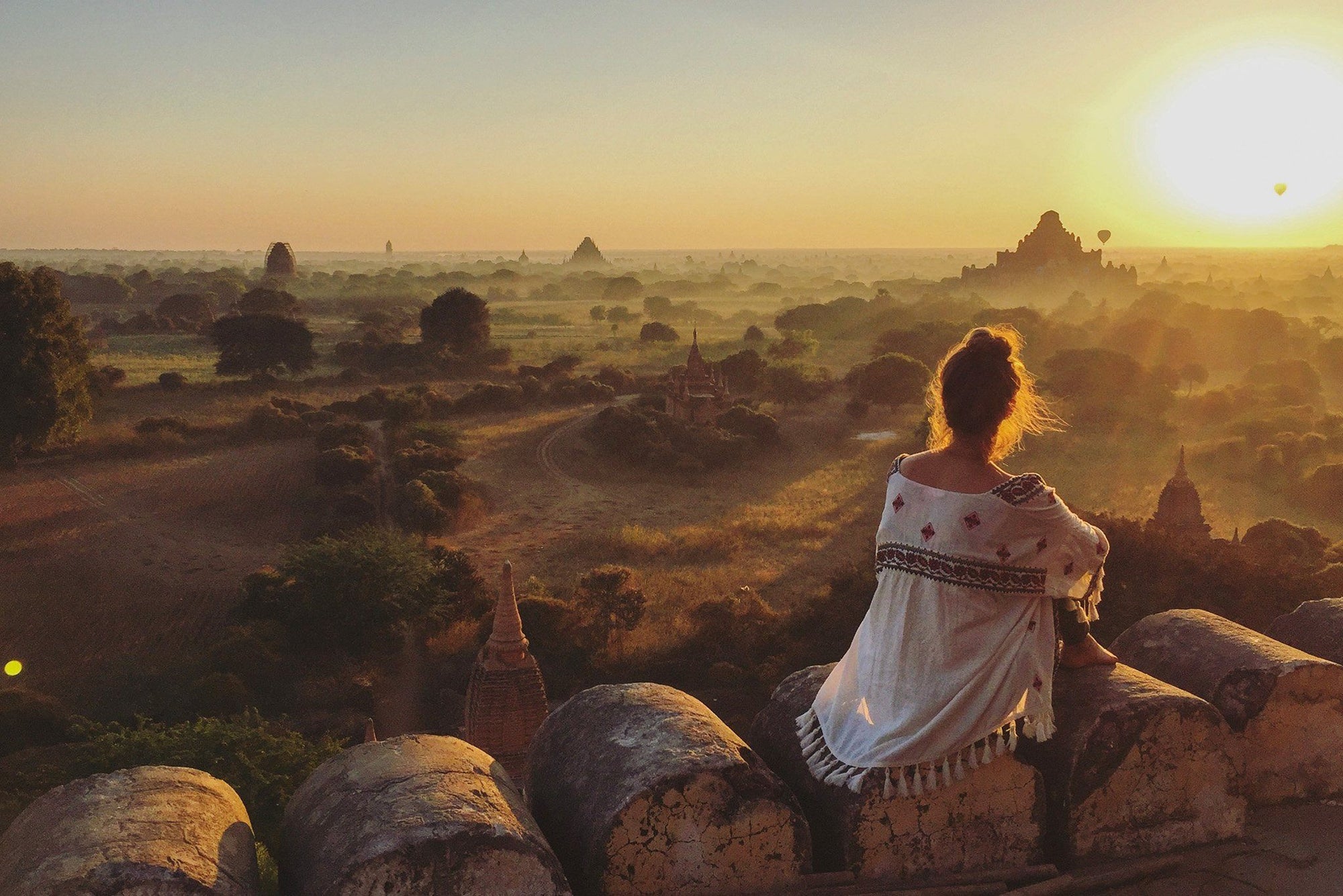 IN CONVERSATION: ON THE ROAD, WITH INSPIRED TRAVELLERS.
0 comments
TRAVEL IS OFTEN THE THING WE DREAM ABOUT DOING WHEN LIFE IS HECTIC + WE NEED AN ESCAPE.

 

THE LURE OF SUNSHINE IS ALSO A *THING* WHEN IT'S DAMN COLD IN YOUR HOMETOWN.

 

TARALYNN DISHER

 

SARAH BYDEN + JAZ MORTON SHARE THEIR 'ON THE ROAD' EXPERIENCES WITH US, ALONG WITH SOME HEAVENLY IMAGES CAPTURED ALONG THE WAY.

 

THE CHILL OF AUTUMN HAS HIT MELBOURNE - IS IT TIME TO PLAN THAT TRIP OF A LIFETIME?
SB: Taralynn you've been traveling for the most part of 3 years, the world must be getting smaller. What got you started on this adventure?
TD: What was initially a 6 month break from a conditioned and comfortable life, had evolved into a 3 year lifestyle commitment that I've willingly chosen not to outgrow.  I had it all, some would say, and at times I too had myself convinced.  I was living the oddly desired cookie cutter 9-5/5 days a week "adult job" - I was immersed in this vivid 'rewind, replay, repeat' cycle.
.
SB: I know you're a strong advocate towards a plant based lifestyle, did you find this difficult while traveling?
TD: It's important to speak on behalf of those who cannot, and traveling whilst communicating a cruelty-free plant based lifestyle to a variety of cultures who only speak a few words of English was unfavorable at times but became second nature in practice. Plenty of fresh fruit & veg is everywhere - I made sure I always had something with me. 
SB: What's one of your most memorable trips so far?
TD: Every single country has been significantly memorable to me. The two I would narrow it down to would be my trip to Myanmar; untouched ancient pagodas and rich culture. My other last minute decision was to Sumatra Indonesia; one of two very last places on earth to see Orangutans undisturbed in their natural habitat. Both were beyond incredible moments of my life. 


SARAH BYDEN TALKS ABOUT #VANLIFE + THE NEW PERSPECTIVE GAINED THROUGH TRAVEL.
SB: Looking through your IG you have been on an incredible journey around the Oz homeland. What got you both started on this adventure?
Sarah: It all started when we were travelling Europe funnily enough, we had so many conversations with other backpackers that had seen more of our country then we had. So we decided when we got home we'd save up and explore the country we call home.
SB: Has your travels changed your perspective of life?
Sarah: Definitely, we've always heard the saying 'money doesn't buy happiness' but after this trip we definitely believe it.  Our life perspective is 'less is more' these days. We've gained more appreciation for the small things in life, like showers and clean clothes. Also a greater appreciation to live in the moment, we've experienced some incredible times in our life and then they're gone.  If this trip has taught us anything it's definitely to enjoy the now, live in the moment and have no regrets. 
SB: Yourself + Vin bought a van which was converted for the trip, did you convert it yourself? What advice would you give to others wanting to do the same?
Sarah: We did convert it all ourselves, we were fortunate to have an amazing mate who was handy on the tools, and with Vins' help, he built the majority of the vans interior. It may seem like such a daunting project but surprisingly it isn't as hard as it seems. Our main advice would be build it to your needs and functionality, not based on appearance. There are so many 'van lifers' out there these days so definitely ask around to get a feel for what works and what doesn't. The van life community is amazing and such a big help especially when it comes to the technical side of conversion ie. battery systems and solar. Don't over complicate - anything simple is definitely better when travelling on the road.
JAZ MORTON'S IG FEED  @travelwithjaz IS INSPIRING ON MANY LEVELS.   The destinations + natural settings are certainly beautiful, but scroll further down, and you'll see the dedication + focus that went into customising the van that would carry Jaz on his various adventures.  We talk to him about #vanlife, his road to a plant based diet + the appeal of travelling light.
SB: You have a YouTube channel that walks us through the build of your van + the different places and experiences you've had while traveling. What inspired you to document your journey this way?
JM: Initially I was looking for a decent van build that showed you start to finish in detail, but I couldn't find it. I'd already made a few YouTube videos in Bali and decided I would document my whole van build process to help others. I had a rough idea of how I wanted to document it, and a rough idea of how I wanted to build the van. To be honest, most of the answers presented themselves along the way.The feedback from all the people tuning in to the van build, proved to me it was valuable information and that was a big driver into continuing to create similar content.
SB: Managing work and travel must get tricky... Does your YouTube channel and inspiring IG account offer you a way of making money on the road?
JM: I've had times where I'm super inspired to make content and times where I want to abandon social media. I'm still working out the balance between living the life and creating content, I think that just comes with time.
I'll be 100% transparent, in the beginning I was making $0, then 2 cents per day, then 5 cents per day etc. As the van build series on YouTube gained popularity my earning began to rise accordingly.There're many factors that determine how much you make from YouTube but on average right now (Feb 2019) it's anywhere from $8-$30 a day, roughly AUD$400-$800 per month.I'm blessed to have that as residual income, but I did put in an immense amount of work to create that. It isn't enough at this point to live off exclusively but I'm working towards that. As for Instagram, other than lead generation, I haven't earned any direct money from Instagram.
SB: We know you've been living a plant-based lifestyle for some time; how did this change come about and what does veganism mean to you?
JM: Back in 2014 I moved into a new house and my new housemate had been a vegetarian most of her life. At the time I'd been watching a few different documentaries about health and decided I would stop drinking cow's milk as it made me mucousy. Things went well, so next it was eggs, then fish, then chicken and red meat months later.
It took about 2 or 3 months to go from vego to vegan. I monitored myself along the way and noticed I felt better, lighter, cleaner and my digestion seemed to prefer this diet. Around this time, I saw films like "Earthlings" and "Cowspiracy" and these films made me realise it wasn't just about me and my individual health.I haven't really looked back since 2014 and am still going strong today on a whole food plant-based diet. What veganism or plant-based means to me : health for oneself, a means to aiding environmental sustainability and longevity, and also the alleviation of mass suffering for innocent animals.
SB: Do you have any words of advice for people thinking about taking a life-changing trip?
JM: My advice is you don't have to think of it and plan it as some life changing trip. Just start small and save, save, save. Make a goal, book your flights, work hard and save, sell useless possessions, travel light, spend minimally, travel longer! I wrote a blog post on cultivating a travel mindset and some practises you can use before and during travel. I would like to think of it as taking that trip could redirect your path into a life changing lifestyle.
If these testamonials don't inspire you to take some time out, get dreaming with these sustainable accommodation options across the globe ....Winter may be coming to Australia, but the sun is always shining somewhere out there.
Catskills A-Frame – KERHONKSON, NEW YORK 
Secluded intown treehouse – ATLANTA, GEORGIA 
Off-grid Adobe Dome in the desert – TERLINGUA, TEXAS  
Cave – BONNIEUX, FRANCE
Camper/ RV – JOSHUA TREE, CALIFORNIA 
Casa Tiny House – PUERTO ESCONDIDO, MEXICO 
Art Residence – UCHISAR, TURKEY 
Hide Out- BALI
Tiny House - DRIMNIN, SCOTLAND  
Dreamy Tropical Tree House – FERN FOREST, HAWAII 
0 comments