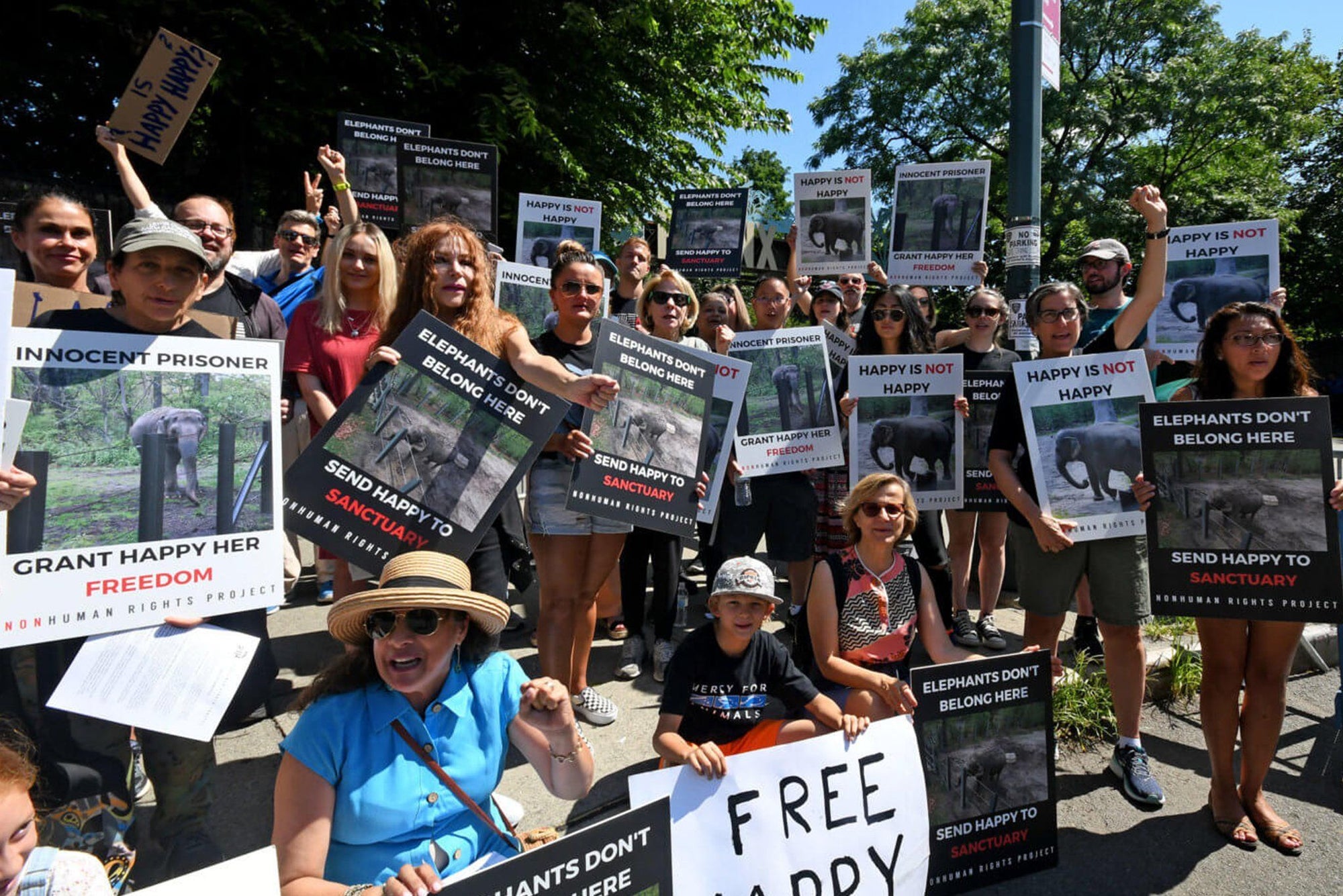 IN CONVERSATION: MICKEY SUZUKI TALKS FREEDOM
0 comments
WHEN WE THINK ABOUT FREEDOM FOR EVERYONE ON THE PLANET, WE TEND TO THINK OF HUMANS ONLY.  BUT DID YOU KNOW THERE ARE PEOPLE FIGHTING, EVERY DAY, FOR THE FREEDOM OF INTELLIGENT, THOUGHTFUL, NON HUMAN SENTIENT BEINGS WHO HAVE BEEN MISTREATED BY HUMANKIND? 
Mickey Suzuki is one of these people.  Her story of how she came to work with the Non human Rights Project, the ongoing struggle to win rights for non human animals + her inherent compassion for all living beings, is impressive.  I reached out to Mickey when I was in the US earlier this year in the hopes of meeting in person.  Timing was not on our side, however we've kept in touch + Mickey was kind enough to answer some of our questions about the project. I hope you will be as inspired as I was, after you've read this interview.  
CW: How did you find yourself at the NhRP - what led you to this role?
MS: Growing up in the bush (our house was behind Kuring-gai Chase National Park in NSW), I was always surrounded by wildlife, so it was important to my parents to teach me how to share our home and surrounding spaces with other living beings. They were the ones who instilled in me a love for nonhuman animals and from there I developed, at an early age, an understanding of how we humans aren't the only animals who have fundamental needs that deserve recognition and protection.
In 2015, I quit what I thought was a dream job in New York City working for a large fashion company. I felt intensely guilty and disillusioned by the industry after having to visit leather tanneries and suppliers quite frequently for the role. Around the same time, I attended a conference at NYU to see NhRP Founder and President Steven M. Wise speak about legal rights for nonhuman animals. Everything he said aligned with my parents' early teachings and made so much sense to me! I followed the NhRP's work and volunteered on-and-off for several years until eventually becoming a full-time staff member in 2019.
CW: What does a 'regular' day look like?
MS: NhRP staff have always worked from home and are based all around the US. We're in constant communication over hours-long conference calls, countless emails, and chat threads. As the Development Director, I oversee all fundraising and donor relationships. A regular day for me involves chatting with our supporters, managing supporter events and programs, and working behind the scenes to ensure that the NhRP has the resources needed to fulfil our mission. I typically have two cups of coffee in the morning (though I'm trying to cut down) and take breaks to stretch my legs with Ryuu, my canine companion!

CW: What is the feeling in the legal fraternity about the project? I can imagine the fight for non human animals is perhaps not always met with open minds.
MS: You're right, it's not been an easy road for sure but the obstacles are something that the NhRP was well-prepared for. We've been raised in a culture where for thousands of years human beings have routinely exploited and imprisoned nonhuman animals. We are challenging a centuries-old legal system and asking judges, for the first time, to begin to think about the injustice of nonhuman animals as "things" without a single right, so we expected their automatic and unconscious bias against it.
What we didn't expect when we filed the world's first nonhuman rights lawsuit in 2013 was that a mere five years later we would receive historic court rulings where judges would begin to reconsider and reject the legal "thinghood" of chimpanzees and elephants and start to embrace the idea that they should be recognized as legal "persons" with the right to liberty.
 In 2018, Judge Fahey of New York's highest court wrote that the failure of the New York courts to grapple with the issues the NhRP raises "amounts to a refusal to confront a manifest injustice." Judge Fahey is the first high court judge in the US to hold that "there is no doubt that [a chimpanzee] is not merely a thing."
Later in the same year, New York's Fourth Judicial Department cited one of the NhRP's chimpanzee rights cases, writing, "It is common knowledge that personhood can and sometimes does attach to nonhuman entities like corporations or animals."
In February of this year, Bronx Supreme Court Justice Alison Y. Tuitt issued a decision that powerfully supports the NhRP's arguments and brings us one step closer to security liberty for nonhuman animals.
Slowly but surely, change is happening.
CW: I note that for now, the animals the NhRP are advocating for, are great apes, elephants, dolphins + whales. Do you envisage a time when this will expand to farmed animals?
MS: As individuals, we're troubled by all systemic suffering of nonhuman animals. As an organization, however, we're committed to working within the bounds of our existing legal systems and pursuing strategies we deem most likely to succeed in courts and legislatures based on the values and principles courts and legislatures say they believe in, such as liberty, autonomy, equality, and fairness.
Great apes, elephants, dolphins, and whales are not the only animals who are suffering but they are the species we consider most likely to be the first to break through the legal wall that separates all nonhuman animals from all human beings, based on the social and political climate as well as the scientific evidence available about these species. 

Having said that, we do see our works as advocating for farmed animals in an indirect way. We hope that by making apparent the injustices of the legal system for these specific species, we raise awareness of and prompt reflection on how animals are treated in the agricultural, bio-medical, hunting and other industries as well.

CW: Is the work of the NhRP purely USA based, or does it go more broadly across the globe?
MS: The NhRP works predominantly in the US; however, over the last several years, our work has expanded worldwide. We've helped to set up and collaborate with legal working groups in Canada, England, Spain, France, Sweden, Finland, Switzerland, Portugal, Argentina, Israel, Turkey, India, and Australia to develop nonhuman rights-based litigation suited to the respective legal systems of these countries.
In a relatively short period of time, we have seen a lot of progress toward nonhuman rights. For example, in 2017, a case from Argentina modeled on the NhRP's freed a chimpanzee named Cecilia to a sanctuary. Cecilia is the first nonhuman animal in the world to be recognized as a legal person with rights. In 2019, NhRP President Wise addressed the Constitutional Court of Colombia during a hearing to determine whether a bear named Chucho is a legal person with the fundamental right to liberty. In May of just this year, the Islamabad High Court in Pakistan relied on the NhRP's cases in a decision that "without any hesitation" affirmed the rights of nonhuman animals and ordered the release to sanctuary of an elephant held in solitary confinement at a zoo. Right now, the NhRP is helping lawyers in Israel and India to file nonhuman rights cases sometime in the next year.

CW: What communications strategies are engaged to 'get the word out there' regarding the promotion of the rights for non humans? Jane Goodall has a high profile of course, I imagine she would be pivotal in sharing the narrative?
MS: Yes, Dr. Jane Goodall, one of our founding board members, is a natural storyteller and an amazing person to have in our corner! We've also been very fortunate to have other highly influential people such as Dr. Brian May of Queen, documentarians Chris Hegedus and the late D A Pennebaker, support our work and nonhuman animal rights.
However, a lot of how we get the word out there is through grassroots advocacy initiatives with the help of our dedicated supporters all around the world. Prior to the global pandemic, we held several successful rallies which garnered local supporters and gained worldwide social and traditional media attention. In light of COVID-19, we've gotten creative with shifting in-person rallies, supporter events, lectures, and talks to virtual alternatives. We recently held a Day of Action on Twitter which resulted in thousands of tweets urging the Bronx Zoo to release Happy to sanctuary with the use of #FreeHappy and we've been hosting free online seminars to raise awareness and educate viewers on all aspects of our organization. These alternatives have helped us to reach a wider community of supporters across the country and worldwide.
CW: Many people are aware that domestic or companion animals are protected against cruelty, by law, yet it appears to be often unknown, that the rest of the non human animals on the planet, are not. Has it always been this way - have we regressed as a species (of humans), or gone forward over the last 100 years - when it comes to respecting + enshrining this respect into law, for our fellow earthlings?
MS: Unfortunately, in terms of rights, it has always been this way. For over 2,000 years, all nonhuman animals have been legal "things" that lack the capacity for any legal rights, instead of legal "persons" with the capacity for dignity and rights. Looking back at human history, at one time, women, children, indigenous peoples, African Americans, Jews, and others were also considered "things". Civil rights work was long occupied with the slow recognition of the rights of every human animal and transformed us, one group at a time, from "things" to "persons". All of human history, up to and including the present moment, shows that the only way to truly protect human beings' fundamental interests is to recognize their rights. Now remains the matter of other animals.

The first modern animal welfare laws were passed centuries ago. However, it's important to note the distinction between animal welfare and animal rights. Animal welfare prioritizes human interests and humans are still at the core of these laws. Animal rights, on the other hand, focuses on the fact that nonhuman animals have their own inherent interests and calls for these interests to be protected.

CW: It seems that when we are children, our understanding + appreciation of non human animals is inherent. Somewhere along the way, many of us forget + we detach from them - allowing us to shut our eyes to their trauma, terror, pain + suffering.  This naturally results in seeing non human animals as 'things' that are 'for us' versus beings that are 'with us' on this planet.  Do you see opportunities or actions occurring in early education to improve this for our future generations?
MS: Absolutely! As adults, we seem to develop a cognitive dissonance toward our treatment of nonhuman animals but I do believe that with early and ongoing education, we'll see a change in future generations. With education being one of the key ways that the NhRP works towards our mission, we hope to inspire some of that change.
In the past, we've worked closely with Voiceless, an Australian organization, on the development of their Legal Personhood Animal Protection Education (APE) resources. Voiceless creates educational resources that fit within the Australian school curriculum and encourages high school students to think critically about animal protection issues. In addition, we recently helped a 10-year-old student at Somersfield Academy in Bermuda with a project on chimpanzee rights that he was working on for a school conference called "What Matters" and invited young activists to ask their questions about animals in a special online seminar.

CW: Some find the topic of recognising non human animals as having individual validity + rights - as challenging. The notion puts a roadblock to their desire to eat meat / drink dairy / wear leather + other animal derived products.  We believe in putting as much information + inspiration into the world, in the hope that eventually, true respect for all animals will occur.  Are there any resources you would suggest our audience read, watch, listen to - to expand their knowledge base in this area? 
 Here are some resources I recommend:
CW: What can people do to support the NhRP? I've noted the various hashtags that are in play on your website, we'll be sure to include these in any IG story telling of the blog post when it's ready. 
MS: Here are a few things people can do right now to support the NhRP and our fight to build a more just world for all:
Sign: Join the nearly 450,000 people who've signed a Change.org petition calling for freedom and sanctuary for Minnie. Join the over 1.3 million people who've signed a Change.org petition calling for freedom and sanctuary for Happy.
Share: Share NhRP blog and social media posts with friends and family to raise awareness about Happy and Minnie's plight and the need for nonhuman animal rights. Use the hashtags #FreeMinnie and #FreeHappy. You can watch and share our PSA video for Minnie here.
Follow: Sign up to receive emails on the latest news from the NhRP. You can also follow us on Facebook, Instagram, Twitter, LinkedIn, and YouTube to get updates on how to get involved.
Write: If you see an article about imprisoned or exploited animals, comment online or submit a letter to the editor. Mention the work of the NhRP, why animals deserve respect, and the need for nonhuman rights. In addition, you can write to or tweet at agencies and leadership who can help to release Minnie and Happy to one of two elephant sanctuaries in the US. Learn more on how to take action on behalf of Minnie here and Happy here. 
Support: If you're currently in a position to give, please consider giving a one-time or recurring donation to the NhRP here. You'll be helping our small staff engage in the long-term planning that best serves the animals we seek to free.
You can also see all other ways to give here or email me @ to learn more about our organization and how to get involved.
___________________________
Sans Beast have made a donation to the NhRP, and we hope others consider helping in any way they can.
Thanks for being here.
Cathryn Wills 
0 comments