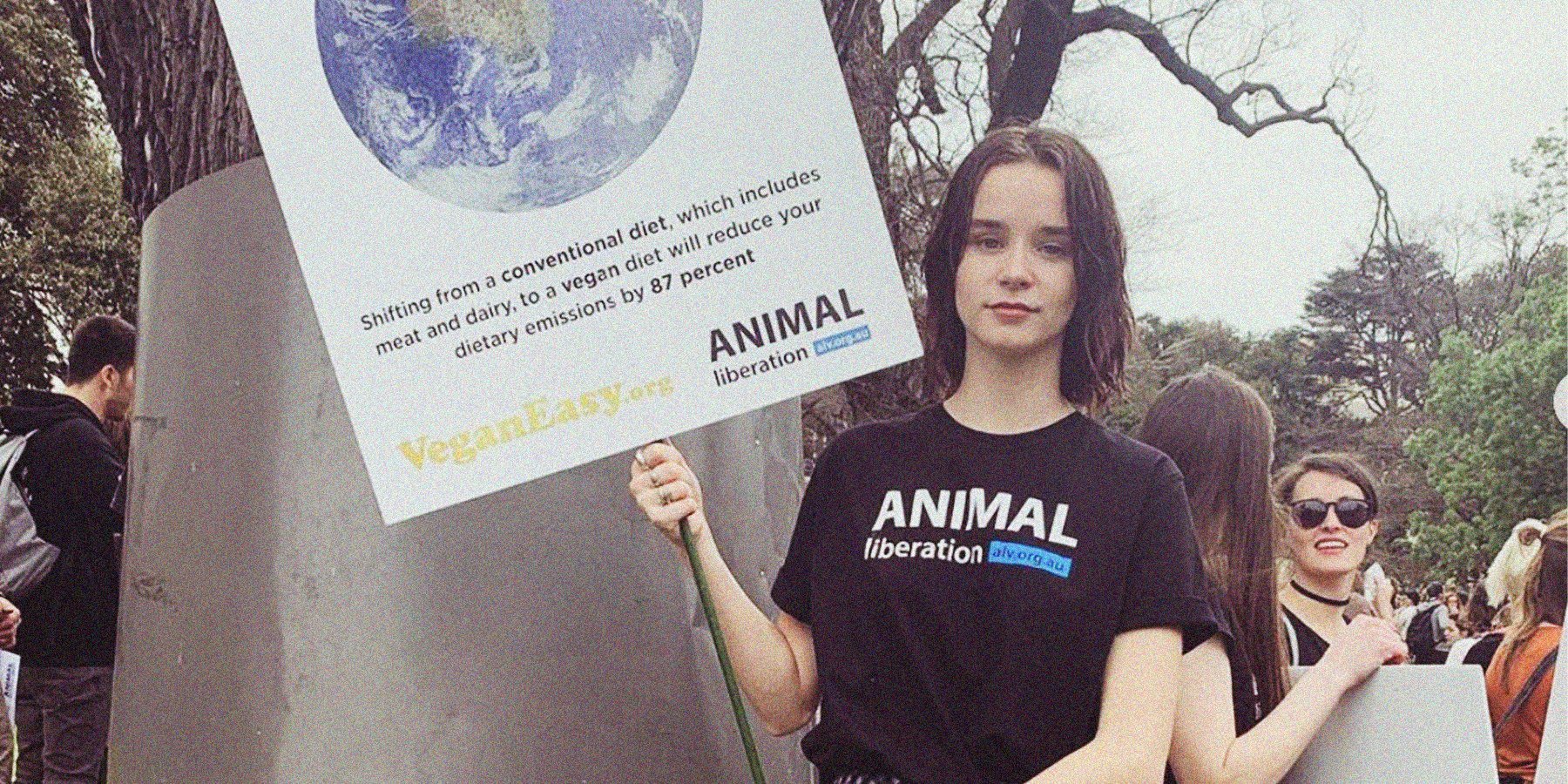 IN CONVERSATION: EMMA HAKANSSON
0 comments
EMMA HAKANSSON IS ONE INSPIRING WOMAN. MODEL, WRITER, ANIMAL ADVOCATE + SOON TO BE PUBLISHED AUTHOR, EMMA HAS COVERED A LOT OF GROUND IN HER RELATIVELY YOUNG LIFE.  DISSATISFIED WITH THE STATUS QUO SURROUNDING ETHICS + SUSTAINABILITY IN THE FASHION INDUSTRY, EMMA LAUNCHED HER CREATIVE AGENCY, WILLOW CREATIVE CO, AT AGE 19, WHERE SHE WORKS EXCLUSIVELY WITH BRANDS PROMOTING KINDNESS + THE ENVIRONMENT.
Emma has been a friend of Sans Beast since our launch in 2018 - you may even recognise her from our website. We caught up with this powerhouse to talk about what inspires her to take on this mission, of making the world a kinder place.
SB: YOU ARE A WOMAN WHO WEARS MANY (ETHICALLY PRODUCED) HATS. TELL US ABOUT THEM?
Everything I do falls under the roof of hoping to make the world a bit kinder. My main interests are in making the world a safer place for non-human animals + in making the fashion industry kinder to all those in it. There's of course a big overlap between these two primary focuses. I write about these issues - articles + a book which has just been completed in draft form. I create campaigns exposing violence against animals + advocating for alternative practices. I produce content for ethical fashion brands + I consult with other brands to help them transition away from animal materials which are not only cruel, but the most environmentally impactful material choices in the industry. 
SB: YOU'RE AN ACTIVIST + AN ADVOCATE FOR SO MANY CAUSES. WHAT ARE SOME THAT ARE CLOSE TO YOUR HEART?
Anti-speciesism is perhaps what I hold most close to my heart. This is the form of discrimination which a vegan life works to tangibly reduce the result of; one which sees non-human animals as commodities for human benefit rather than as individuals in their own right. I'm also a feminist + I am passionate about the protection of children + the environment. I think what's most important to my view on these things is that oppression is all utterly intertwined - we will never truly be rid of one form if we don't uproot the whole idea that some life matters more than others.
SB: WHAT INSPIRED YOU TO CREATE
 

WILLOW CREATIVE CO. + WHAT DOES WILLOW DO?

Willow Creative Co

is the agency through which I produce content for ethical fashion brands + consult on fashion ethics. I was working as a model (which I still sometimes do) + I was becoming more aware of the ethical implications of the fashion industry - the people who had been poorly paid + treated who made the clothes I was advertising, the dead animals who they were literally made of + I decided I wanted to help make things a little better. Too many great, smaller, ethical brands didn't quite have as beautiful content as they could + couldn't compete with the big, careless ones. A Willow production uses vegan products when doing HMU on the model + the creative team is aligned with the values of the brand.  The namesake of Willow Creative Co. is a sheep called Willow, who was the first lamb I fostered. She lives at a sanctuary + she was rescued from being one of the 10-15 million lambs who die in the first 48 hours of their life every winter lambing season here in Australia. 
SB: ADOPTING A PLANT BASED DIET OR MAKING KINDER CHOICES CAN SEEM DAUNTING FOR SOME PEOPLE. WHAT ARE SOME SMALL STEPS YOU RECOMMEND FOR PEOPLE STARTING THEIR PATH TO MORE CONSCIOUS LIVING?
Just start. It doesn't need to be overnight, but start cutting down. Make your breakfast animal free. Avoid the things that are easier - dinner can be harder to change than a habit of buying leather goods (especially when there are brands like Sans Beast!).  Perhaps most important though, remember that living a vegan lifestyle is not a 'giving up', it is the result of a realisation of what was never ours to begin with. It is an act that is in alignment with a respect + care for the autonomy + rights of animals. Reading, watching + learning about animals - both their treatment in exploitative industries, + as happy individuals - is a powerful way to keep you going on this path.


SB: WHAT'S ONE MAJOR CHANGE YOU'D LIKE TO SEE IN THE WORLD IN YOUR LIFETIME? 
There are lots indeed, but if I'm going to be realistic I often say I'd like fur wearing to be a thing of the past, for leather to be seen as fur is now + for wool to be seen as leather is now. They're all slaughter industries, so I'd like each to move a step up in the consideration of humans.
SB: FINALLY, YOUR CURRENT FAVE SANS BEAST PIECE + WHY?
Of my own collection, it remains the Noir Croco Liaison Backpack. Black is always good in my wardrobe, I love the texture + the faux tortoiseshell handle, + how much it fits into it, while not leaving me with a sore back. Of the new collection, the Khaki Petite Smuggler is such a beautiful colour, in such a cool shape. 
To keep up with all the wonderful things Emma is doing, go to her website, follow her on Insta or check out Willow Creative Co.
WITH LOVE, STUDIO SANS BEAST
0 comments