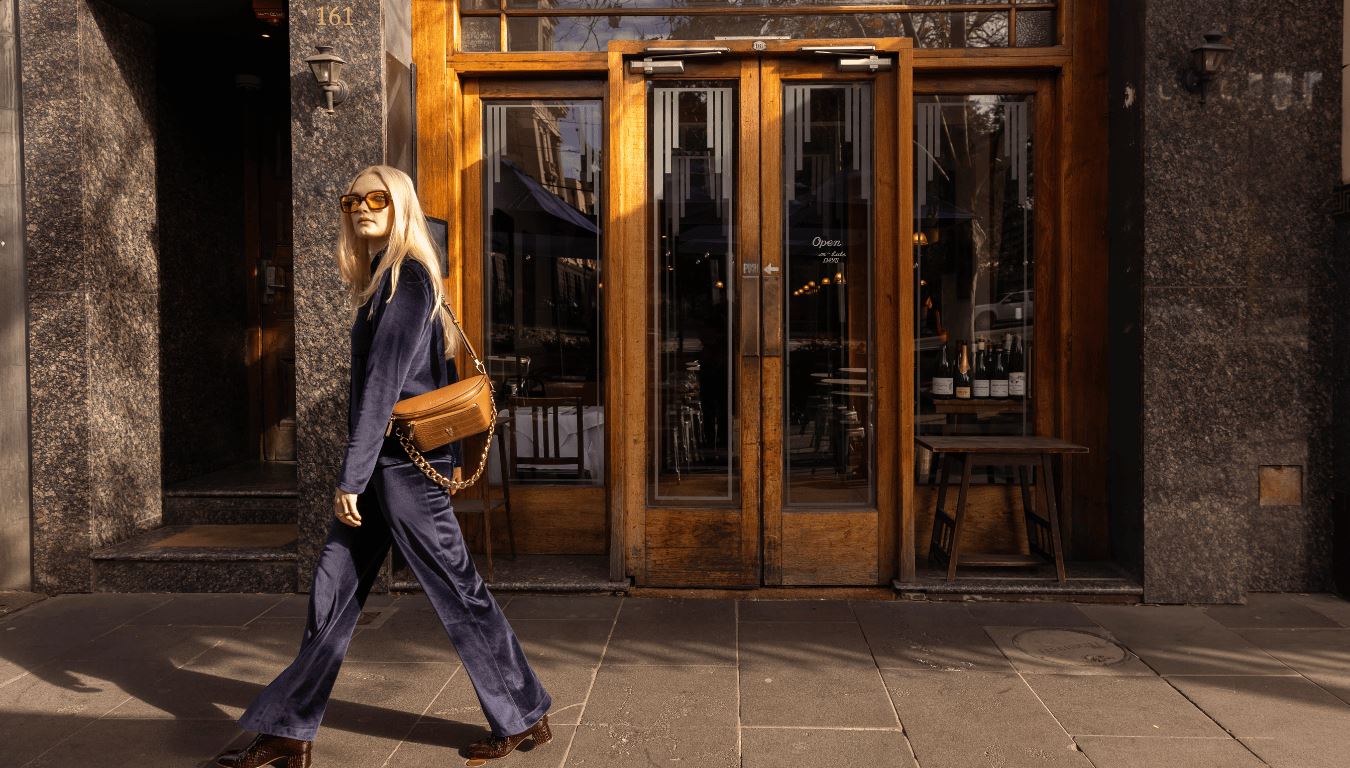 STYLE: HOW TO WEAR THE BRIGHT SPARK
0 comments
The Bright Spark vegan crossbody bag is one of our most popular styles. Let's talk styling this maestro of versatility.
The Bright Spark is a compact yet roomy crossbody bag with a bold, utilitarian spirit. It's been a signature style in our last 5 collections, embraced by lovers of versatility as a practical belt bag made modern.
This is not your traditional, cliched 90s belt bag. Made from GRS certified recycled fabric + trimmed with faux croc highlights + custom hardware, the Bright Spark fuses fashion + function, and is polished enough to dress up or down. Yes, you can wear it around your waist + call it a bum bag or fanny pack - whatever takes your fancy - but we like it styled crossbody for work or play.
It's a great choice for travel, as it keeps your important items securely close + within your easy reach. There's plenty of room for your passport, wallet, phone + essentials, and it goes with anything - so if you only take one handbag on holiday, this is the one.
Thoroughly elevated + androgynous, the Bright Spark is definitely a bag for everyone. Watch our What's In My Bag film to see what fits inside + read on to see how the Sans Beast team style their Bright Spark:
Styling the Bright Spark crossbody bag:
Wear high across the front 
We adore the utilitarian edginess of wearing the Bright Spark high on the torso. Keep it front + centre for easy access to everything you need. This is especially helpful when travelling for keeping items secure yet easily accessible.
Wear lower on the hip or sling on your shoulder
You can wear the Bright Spark slung lower on your hip for a relaxed mood, or forgo crossbody altogether and wear as a shoulder bag. This works for casual outfits + also for a more formal ensemble like tailored pants or suits. We told you it was versatile. 
Add a feature strap
Change up the styling mood by adding a feature webbing strap. Keep the included thinner strap for when you want things sleek + monochrome, then swap for a webbing or chain strap when you want a bolder look or just want to add an extra element to your outfit.
Go Tiny
If you love the utilitarian aesthetic + versatility of the Bright Spark but seek something a little smaller, try the Tiny Spark. It's definitely a petite option, smaller in size + without the separate front pocket of the Bright Spark, yet still with space for the minimalist essentials. Wear on the shoulder, crossbody front or back, or mix up your strap options - we especially love pairing this modern, pared-back silhouette with the opulence of an Elemental Chain Strap.
Explore the Bright Spark + discover a crossbody bag that brings the best of fashion + function together. Visit us on IG to see more of our SB community styling their Bright Spark, and share your own style by tagging #beautywithoutthebeast.
XO,
Studio Sans Beast
0 comments