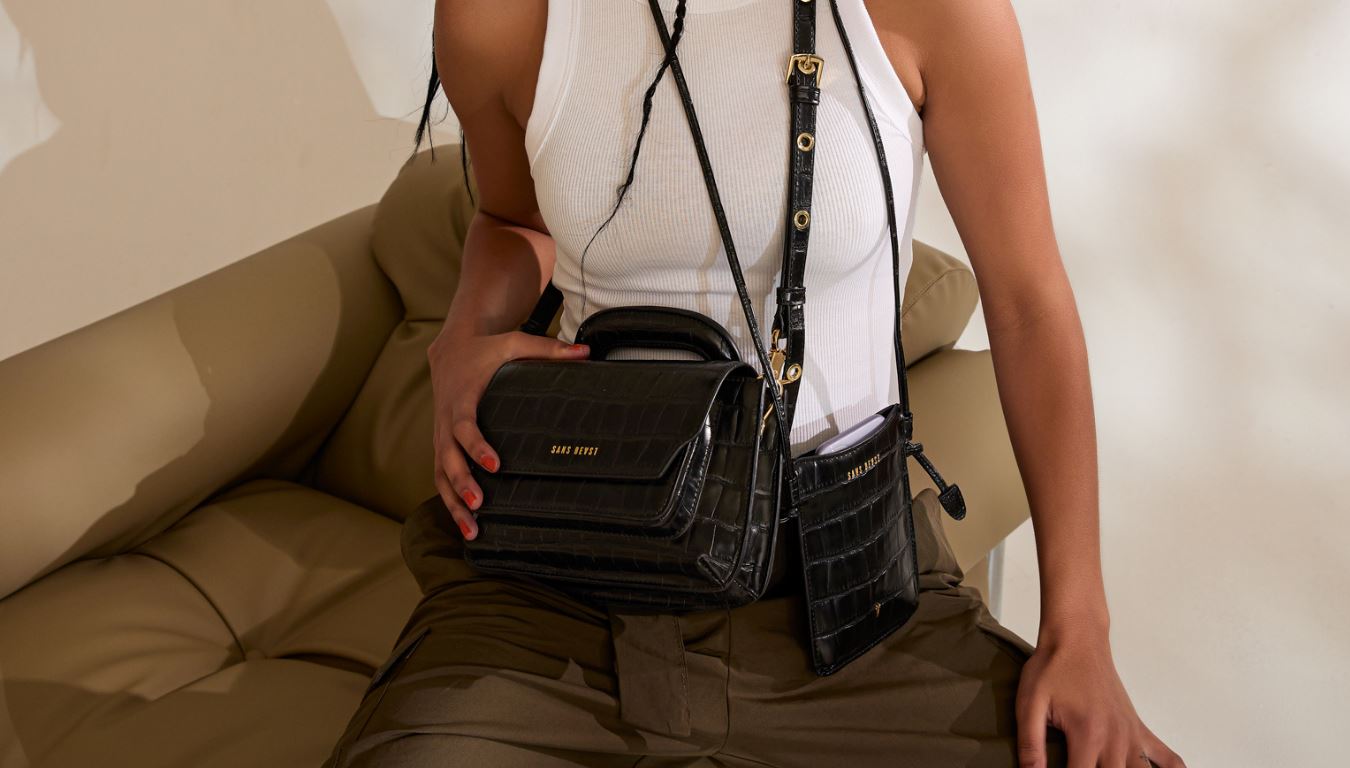 STYLE: 5 WAYS TO WEAR THE READER SATCHEL
0 comments
The Reader Satchel is consistently our best selling crossbody bag, regularly topping the list as our most popular silhouette. It's a bag we love for its shape, size + versatility. 
The Reader Satchel was introduced in our 2nd collection and has become a signature style that remains in the range season after season. 
Featuring rounded edges, twin gussets + a handle inspired by vintage luggage, the Reader quickly established itself as the most popular 'entry point' to the world of Sans Beast, with its timeless silhouette proving an enduring favourite.
Why is it our community's most loved crossbody bag?  It fits just what you need - think cards, phone, keys, makeup, earbuds + more - without feeling bulky to wear.  The top flap has a fuss free magnetic closure to keep treasures secure, and the separate front pocket gives super easy access to your phone. Check out our What's in My Bag vid for an up close look at just how practical this beauty is.
Importantly, the Reader Satchel scores high points for versatility with an adjustable + detachable strap as well as a handle, so it can be styled for casual, dressy, day or evening occasions.  
Here's our favourite 5 ways to wear the Reader Satchel crossbody bag:
Short Shoulder Hang
Shorten the strap that comes with the Reader and wear as a traditional shoulder bag.  This can suit a casual or more tailored look, and allows your outfit to take centre stage.  It also works when accessorising a formal look like a wedding guest outfit, to bring an elegant + refined mood.
Wear Crossbody
Go hands free + effortless by wearing the Reader Satchel crossbody with the included strap.  Style it high crossbody for a utilitarian spirit, or opt for a lower hang for a relaxed mood. 
Using the included strap keeps your look streamlined + won't compete with your outfit, plus at 1.5cm wide, it's narrow enough to not feel restrictive across the bust.
Add a feature webbing strap
Pair your Reader Satchel with our signature Barricade, Corridor, Highway or Laneway strap for a bold, cruelty-free statement. Webbing straps bring an athletic edge to your look, and add polish to a more casual outfit - yes, even activewear! They are a simple way of introducing some subtle colour, detail + interest to your wardrobe staples. 
Pair with a chain strap
Bring some serious glamour to your Reader Satchel by pairing with a chain strap. Like jewellery, a chain strap brings a decorative element to your outfit + can work especially well with more dressy fashion moods, or bring an edge to more tailored or casual outfits.  It's a great pairing for a special occasion or event - we love the the Elemental strap for a short, shoulder hang.
Carry by the handle
The signature handle on the Reader Satchel enables you to turn a crossbody bag into something completely different.  A handheld bag leaves your outfit uncluttered, so it's a great option for when you're really dressing up or just looking for a fashion focussed mood.  Leave the strap to hang down for interest, or remove altogether + embrace an elegant receptacle.
The Reader Satchel can be worn in so many ways, making it a valuable part of your accessories wardrobe. A classic crossbody with a Sans Beast twist, the Reader will accompany you to work + play in cruelty-free style.
Enjoy 🖤
Studio Sans Beast 
0 comments