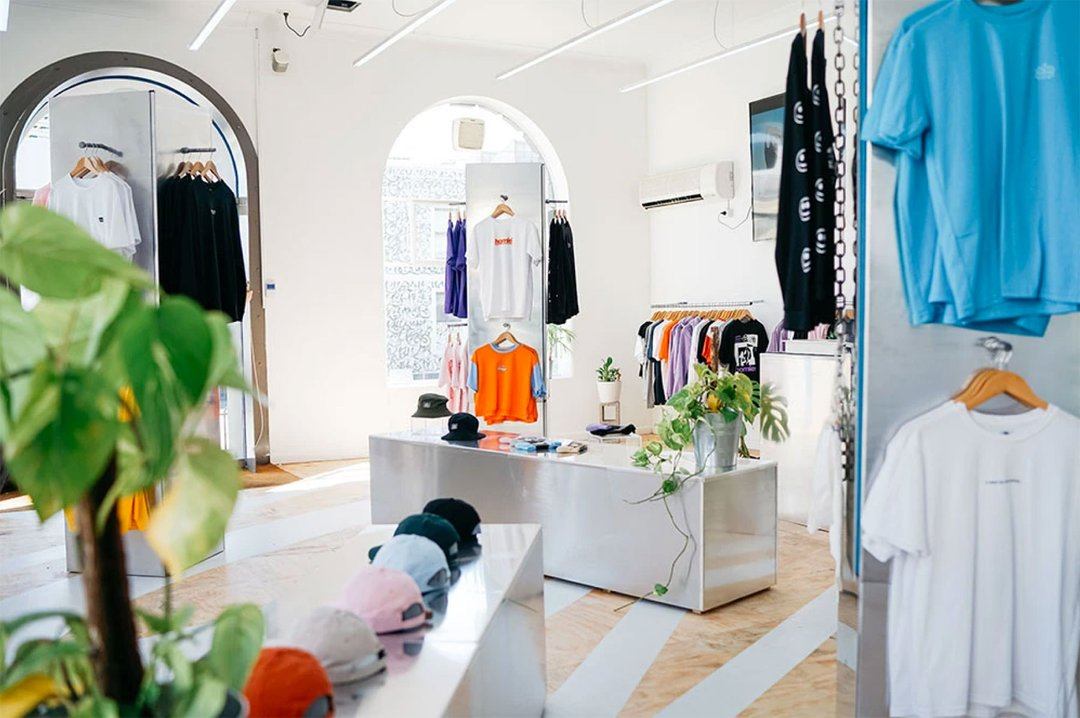 IN CONVERSATION: NICK PEARCE, HoMie
0 comments
"THE THING WE'RE TRYING TO GET ACROSS IS THAT NO ONE IS A HOMELESS PERSON. THEY'RE A PERSON EXPERIENCING HOMELESSNESS. IT'S A SITUATION THEY CAN GET OUT OF WITH THE RIGHT LEVELS OF SUPPORT + OPPORTUNITY. BEING HOMELESS DOESN'T DEFINE SOMEONE."
Nick Pearce is the Co-founder + CEO of Melbourne based HoMie - a clothing brand that provides not just clothing but training + job opportunities for people experiencing homelessness. I recently had the opportunity to catch up with Nick over Zoom (because, 2020) to talk about how he turned an idea + a Facebook page into a fully blown label + training program.
SB: HOW MANY YOUNG PEOPLE ARE EXPERIENCING HOMELESSNESS IN AUSTRALIA?
NP: Of the 120,000 homeless people in Australia, over 40% are 25 or under + 60% are 35 or under. The reasons behind homelessness are so contrasted to the stereotypes + they don't marry up to what people think.
It's a complex issue + most of the time it occurs for young people due to lack of affordable housing, or domestic family violence. It's not through drugs, alcohol or fault of their own like people often think.
SB: HOW DID THE IDEA OF HOMIE COME ABOUT?
NP: The idea of Homie started out of curiosity. My co-founder Marcus + I were both working + studying in Melbourne CBD + on our commutes we would see homelessness first hand.
We were curious about these people + their stories. We wanted to learn more about them + the issue itself + that was the catalyst. Marcus + I sat down with people living rough. We had conversations with them, got to their level, shook their hands. These people didn't represent the stereotypes around homelessness + we learnt the homelessness doesn't discriminate. This sparked a fire within us.
We started a Facebook page called Homelessness of Melbourne where we profiled people experiencing homelessness, in the hope of breaking the stigmas associated with people living tough.
The idea continued to grow + led to our first clothing drive in Fed Square. We wanted to give people experiencing homelessness a dignified shopping experience. They had the opportunity to choose their own clothing + feel special. 
From there we opened our first pop up store. We now have a flagship store in Fitzroy + have expanded our range which began as tees to include hoodies, accessories + our REBORN by HoMie program.
SB: A KEY PART OF HOMIE IS PROVIDING TRAINING + JOB OPPORTUNITIES TO YOUNG PEOPLE EXPERIENCING HOMELESSNESS. HOW DID THIS COME ABOUT?
NP: We talked to the people that came to our VIP shopping experiences + they told us they had a lot of trouble finding a job. They felt like no one would give them a chance. They didn't have referees or the tools they needed to set them up for success.
People just need an opportunity. If they can have a supportive network around them, a framework + infrastructure that contends to all those components, there's no reason why someone can't get from point A to B.
We thought, if we could provide a prevention based model + set people experiencing homelessness on an alternative pathway, then we may be able to reduce the number of people living rough + having chronic homelessness becoming their reality.
This is how we started our Pathway Project. It started as a means of training + employment within our HoMie store but has now expanded to partnering with other retail businesses. Retail is a great launching pad. Most people start their careers in either retail or hospitality. Prior to COVID-19 retail was the biggest employer of young people.
SB: HOW HAS 2020 CHALLENGED HOMELESS YOUTH IN PARTICULAR?
NP: The issues that existed before COVID-19 are further exasperated right now. People are being told to stay home but how do you do that when you don't have a home?
Opportunities are more limited. People who weren't experiencing homelessness are losing their jobs + becoming more vulnerable. It was hard to get a job before this, imagine how hard it is now. It's definitely concerning but it's about focusing on finding a way to help people.
For us, our store isn't open to give people their on the shop floor training experience, but we're working on providing order fulfilment opportunities for our online store. It's been cool finding avenues where we can provide alternative experiences for the people in our program.
You can't do everything for everyone but you can do something for someone. That's a key point to remind ourselves + pride ourselves on.
SB: SINCE LAUNCHING HOMIE, BOTH THE LABEL + YOUR PATHWAY PROGRAM YOU'VE ALSO LAUNCHED REBORN BY HOMIE + HOMIE CREATIVE (YOU GUYS HAVE BEEN BUSY!) TELL US ABOUT THOSE?
NP: REBORN by HoMie is our upcycling label where we repurpose old clothing into one of a kind products. It's been exciting working further with manufacturing, production, pattern making + sourcing etc. + looking for opportunities for the people in our program within these areas.
HoMie Creative is about providing opportunities for people in the creative space, whether it be photography, graphic design, digital marketing or anything within the creative industries. 
We don't want to limit the work we create purely to customer facing retail. It's about broadening our offering + creating well rounded opportunities for people to set them up for success.
0 comments