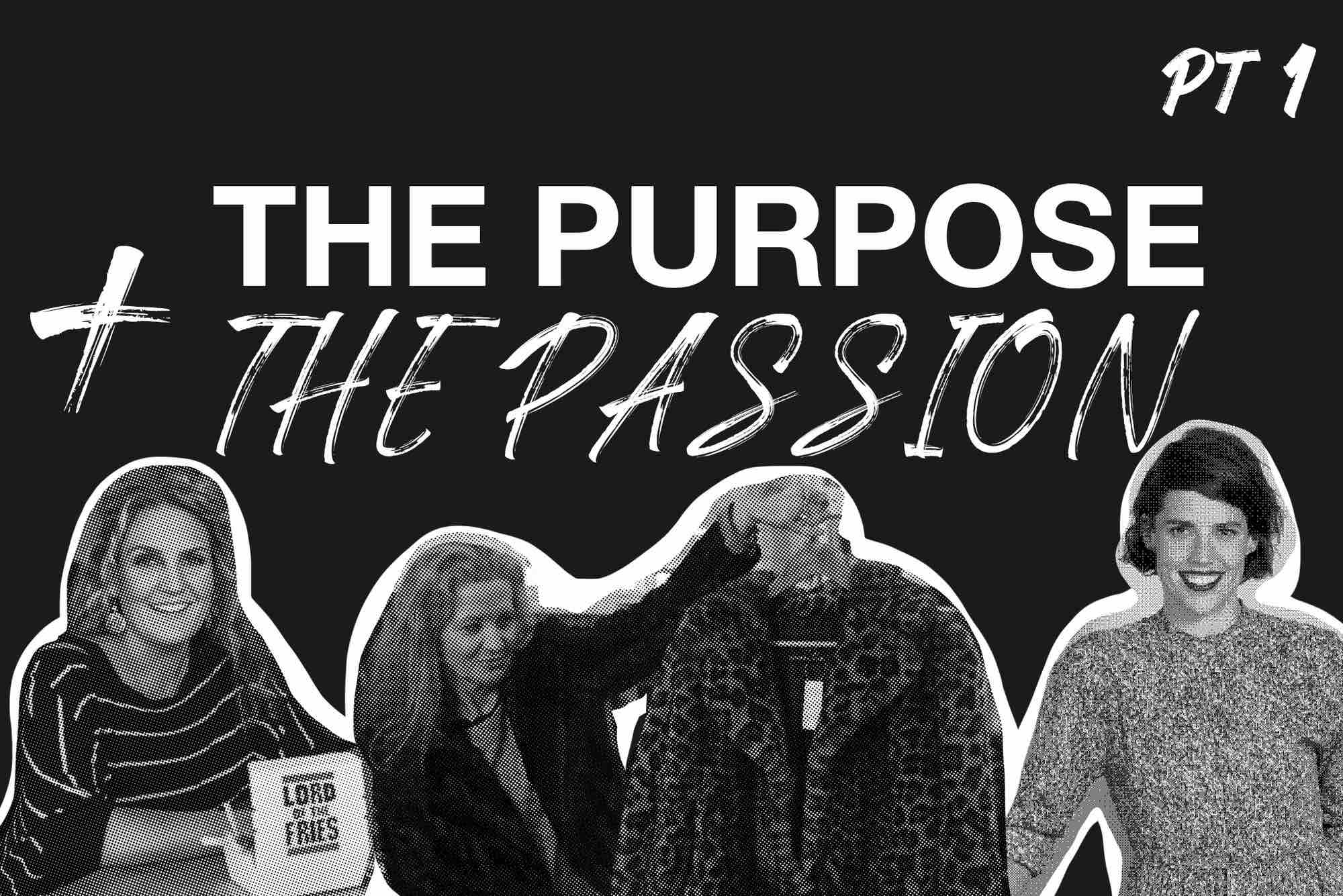 IN CONVERSATION: PURPOSE + THE PASSION, PART I.
0 comments
WHEN I STARTED THE PLAN FOR SANS BEAST, THE PREMISE OF NOT USING ANIMAL PRODUCTS IN FOOD + FASHION WAS NOT NEW, BUT IT ALSO WASN'T MAINSTREAM. IT STILL ISN'T. THANKFULLY FOR US, THE EARLY PIONEERS IN FOOD, FASHION + BEAUTY HAVE PAVED THE WAY FOR LATER BLOOMERS LIKE SANS BEAST, TO TAKE THE BATON + RUN A BIT FURTHER.
Starting a business as a solo founder can be an isolating experience – and starting a business that is purpose led + not consistent with the status quo, even moreso.  The far greater flipside of this, is the rewarding feeling of building something from nothing, growing an engaged + committed team, building brand love from a community who value our aesthetic and / or our ethos (we always hope for both, but it's a 'one step at a time' approach) + raising funds for Edgars Mission Sanctuary.  Meeting like minded people along the way who have created their own animal friendly worlds is an added bonus – and we asked a handful of impressive founders / designers / creative directors from small to medium, to the very well established in business, to share their thoughts.  The responses to our questions were so insightful + generous, we'll have to do two blog posts to do everyone justice. 
 For Part 1 – we talked to Amanda Walker, Co-Founder + Head of Operations at vegan fast food chain, Lord of the Fries, Anna Ross, Founder + Creative Director of ethical beauty brand Kester Black, and Gilat Shani, Designer + Co-Owner, Unreal Fur- about starting a business with purpose, what collaboration looks like + how they remain focused + optimistic when challenges arise. 


SB: Who do you collaborate with currently - and why - and how does their input add value to your business?
Amanda:  We have been partnering with other like-minded businesses and individuals since we first started as a food truck over 15 years ago. They have supported our significant growth (25 stores across Australia and New Zealand and counting!) and help us to be one of Australia's favourite vegan fast food chain, while supporting our values. Each year we host a VIP event (it's one of my favourite nights of the year) where we invite people that we as founders find interesting, we like to tap into local changemakers to share their story alongside ours. We've had vegan activist Anna Weatherlake, Georgie Castle of Citizen Cacao and psychologist Dr Matthew Ruby.  More recently we have started to explore product collaborations because we see ourselves as more than just a fast food joint, rather, part of the larger vegan movement. In 2018, we introduced our Australian and New Zealand consumers to the plant-based innovators Beyond Meat with an exclusive promotion of Beyond Burger, which has since become a permanent menu item and the range has expanded to include Beyond Sausage.

Gilat: We collaborate with many different brands on development projects. Our team is always on the lookout for opportunities for Unreal Fur to be a brand's first partner in designing with faux fur.   We are underway with a major push into the bridal space. We work with boutique labels like Anna Campbell Bridal to tell the story and set the style of the ethical bride. Weddings are an opportunity to expand and drive the 'Fauxvolution' of ethical fashion into new spaces like a customer's wedding day.
Anna: We only collaborate with brands or individuals who have guiding principles in common with us. It wouldn't make sense for us to collaborate with anyone who didn't align with our own values. This can cause confusion for the customer and can undermine our push for conducting business in an ethical way. Collaborating like this allows us to introduce another business, that we love, to our customers. When we hear about someone doing something great, we want to share it.
SB: What prompted you to start a business that didn't use animals products as the building blocks?
Amanda: As individuals who believe we don't need to consume animals and animal by-products for survival, we wanted to create a place to offer an alternative to conventional, popular fast food that we found hard to locate in Melbourne in 2004.
Gilat: I saw the horrors of the leather industry for myself when I visited leather tanneries. That experience was enough to inspire me to restart our business model and develop a brand dedicated to cruelty-free faux fur fashion. Developing a cruelty-free brand has been challenging and rewarding. We are always working to develop the best quality faux furs in the world and create new ways to wear them. 
Anna:  It was just common sense. When our original formulator asked if I wanted the products to be vegan, I couldn't understand why you would put animals into nail polish in the first place. I also grew up in rural NZ and have a love for animals, so I have always been against any kind of animal cruelty. 
SB: When you've had a rough day in startup / small / mid size business land - what do you do to keep your focus clear + your spirits high?
Amanda:  Myself and my husband and co-founder Mark are Vedic meditators which helps to ensure that our spirits are always quite high. We make sure that we relax, laugh, take time out for fun and self care so when we do hit a bump it doesn't hurt too much.  
Gilat:  As a designer, I like to turn around and dig back into the innovative and creative side of the job. The mood boarding, ideation, the swatch picking all reminds me of why I love this business, no matter the stress.
Anna: Over the years I have developed a very deep sense of empathy. If someone really loses it (which is very rare, we have really fantastic customers) I understand it's not really about the nail polish. That person has other things going on in their life. I always listen to what that person has to say as often there are little nuggets of gold in there, but I don't really take it personally anymore. This comes from years of meditating every day!

SB:  How important is the triple bottom line measure for your business (people / profit / planet) + have you reached out to others to help you bring this reporting into your business?
Amanda: All of the above is extremely important to us; the people bring the brand alive, if they aren't happy then the brand is low vibe. Profit is important so we can all live a life we love, and asking ourselves if it's good for the Earth is part of our inherent decision making process. We have had advice in all areas, feel supported and are always open to feedback. 
 Gilat: In 2018, we invested in the SMETA report to audit and accredit all our suppliers according to Sedex's four pillars of labour, health and safety, environment and business ethics. We're working to learn more about how we can become a sustainable brand while maintaining quality control in our designs and materials. With faux fur, the opportunities for development and evolution are endless. I can say for sure that our following can expect garments made from new eco-friendly materials very soon.
Anna: This triple bottom line is really at the core of our business. It's built into our DNA and guides every decision we make. If we were to pivot away from the triple bottom line we would lose our tribe in an instant. We have a number of accreditations that help us report on this. B Corp measures our philanthropic donations and overall business practice, while carbon neutral gives us a very in-depth report on how much our manufacturing practice impacts the planet. They also help us to reduce the impact in the first place before offsetting. 
SB: Do you feel you're judged more harshly by the marketplace (compared to a business with pure profit vs purpose as the driver) because you've decided to go against the norm (ie by not using animal products)?
Amanda: While we are proud of being one of the Southern Hemispheres largest vegan fast food chains, we are still quite humble about our promotion of our 100% vegan menu. It is stated on all of our marketing and social media,  however we still have some customers that aren't aware that our menu is plant based – yet they are fans of our tasty menu and come in seeking a fast food treat!   I think if we blasted our views about how animals are treated all over our platforms, we could face more push back, but we choose to focus on making delicious food that aligns with our ethos, and we always get a lot of positive feedback.
Gilat: More so when we started in 2011. Many times, buyers would turn their noses up at faux fur, especially faux fur dyed in more playful tones like teal and fuchsia. The desirability of ethical and cruelty-free products is at an all time high. We are usually met with praise and admiration for our cruelty-free messaging in the marketplace.  We want to be a force for good in this industry, and by pushing our cruelty-free message for 8 years, we have helped change the norm.
Anna: Yes, I do. I think once a company takes a stand against something, they are then scrutinised more than a company who doesn't care about anything. The hard part about this is that often the scrutiny comes from people who share the same values. When people find out that our products are halal, meaning 'allowed' they assume we slaughter cows in a horrific way, even though our products are vegan. There is a huge misunderstanding around what halal means, and that it's not just a meat certification. We don't stand up for what we believe in by criticising peoples' beliefs or actions; we try to lead by example and bring people on the journey. If you start by offending someone it's hard to convince them of another way.
.
These women were incredibly generous not just with taking the time to share their thoughts - but with the authenticity of their responses.  These were our Top 5 takeouts :
Meditate daily - the burdens fade when you're calm
Practise empathy - particularly with challenging situations + individuals
Keep learning + pushing to be a kinder business – doing good doesn't mean you're professing to be perfect
Connect with like minded businesses
Educate yourself; all is not what it seems in the world of animal production + the marketing machine behind it
0 comments