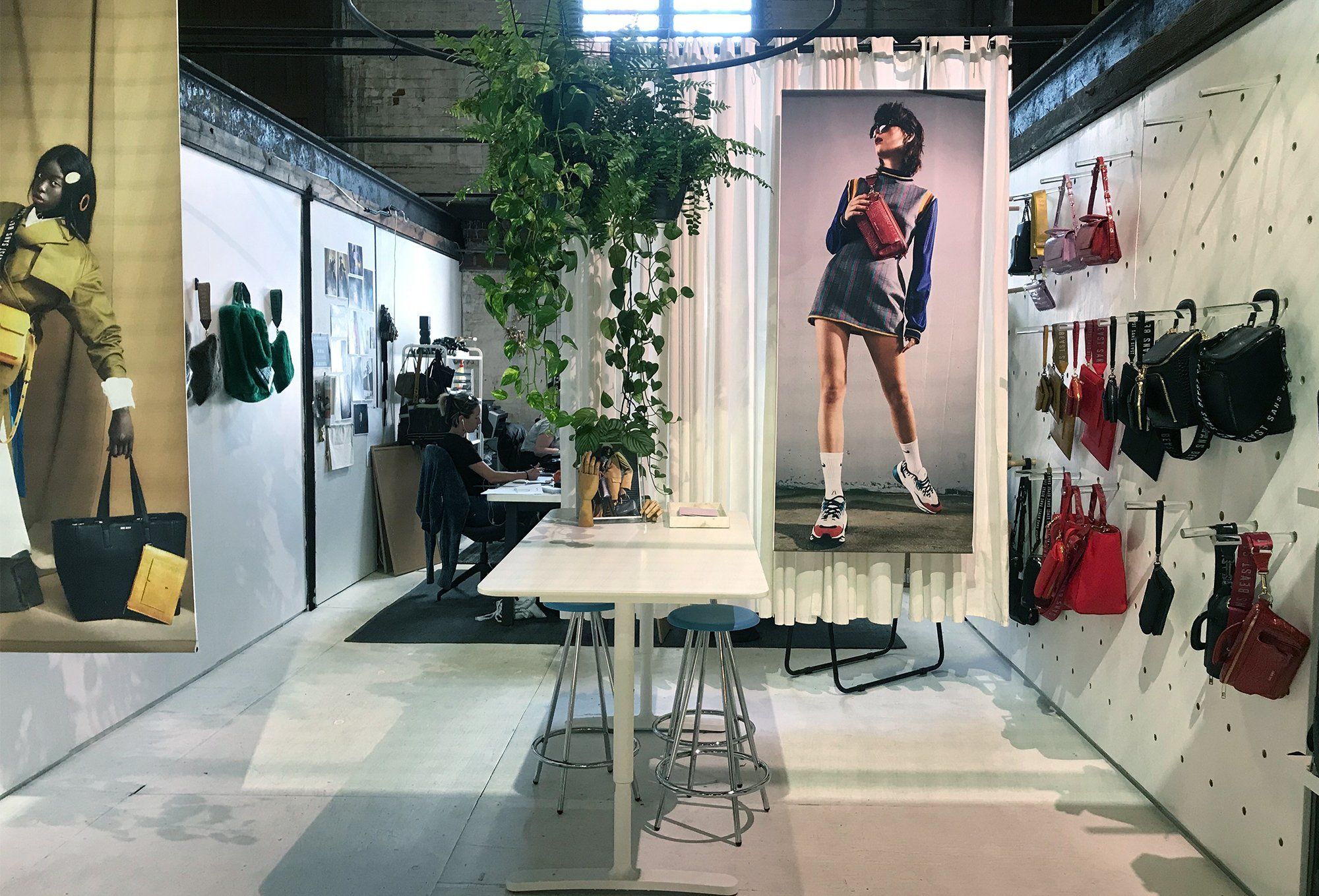 INSPIRATION: 2 YEARS SINCE (SANS BEAST) WAS BORN.
0 comments
"It all started with a wall of post it notes.  I'd left my all encompassing role, heading up a large Australian fashion accessories business, and I knew that working with animal products was not going to be part of my future.  I felt the pressure of people's expectations – not to mention my own feelings of inadequacy for not having a clear light guiding me to the right path.  I filled a wall with words – I knew from copious amounts of management books :  don't worry about the how, or even the what, just think about the why. 
 I came to realise my 'why' – animals are exploited for fashion, and I wanted to create a compelling fashion vehicle for questioning this so-called necessity.  
At first, I didn't want to create more handbags. I had done that for a long time.  But after taking some time out, looking at the market + what was on offer in the accessibly priced, quality + design led vegan handbag space, I couldn't ignore the potential.  So, back to the receptacle of our daily worldly goods I would go.  Bags would be the beginning of this Sans Beast road. I created Sans Beast in May 2017, a year after I left gainful employment + worked towards launching to market in March 2018.
This week, on March 9th, is a year since we went live to 'the world'.  I don't journal (starting to wish I did) but I do have the memory of an elephant.   This is our story so far.
I've said all along, this is just the beginning – and even now, 12 months on, I still feel that.  We are very much a startup + I've spent much of the past year, wondering when that leap happens from startup to a 1, 5, 10, 20+ store business.  I've since come to learn, and embrace, that each time someone buys from us, likes + shares our story, wears our pieces on the street or includes us in editorial – it's a stepping stone laid on the path of growth.  Waiting for that magic moment is futile – it's a slow burn, and it's usually through the eyes of watchers + commentators that the truth is revealed. 
So this article is selfishly for me, as much as it is for you, our community of Sans Beast lovers.  I am both reminding myself of the road on which we've been – and the milestones we've achieved – and communicating with you, what that road has looked like + the sights along the way. 
I will aim to not make this a TLTR piece – so here are bullet points for those who prefer a 3 minute read. 
(You know who you are).
Self Titled designed our logo + word mark.  I believe they did a superb job + their design evolution process was a joy to be a part of.
We took a small space in the Kensington co-working space, Clik Collective, and transformed it with white paint, plants + our ethos statement, into the Sans Beast HQ .

 

I admit to taking some time to adjust to the co-working environment, but looking back, I am so bloody grateful to the individuals who offered advice + expertise in the world of online retailing.

 

Hayley at The Sheet Society in particular was (and is) a saving grace.

 

A Shopify + FB Business Manager Whisperer she is. 


Vien Tran shot our first Series + Ella Murphy styled.

 

We shot for 2 days in Footscray with 5 diverse models. 


I showed the range to a wholesale agent + was advised the shoot was too edgy, the models weren't commercial enough, the product was too stiff/androgynous + perhaps I should wait for success before I took these sorts of aesthetic chances.

 

My ego was bruised, but I thank this individual for sharing her thoughts.

 

I disagreed (and still disagree) but it forced me to ensure my resolve on the brands' aesthetic was rock solid.

 

I'd need it to be so.


We had a PR event at La Porte Space in Sydney, AWPR ensured the gig was a success, and we formed a bond with Adam + his team.

 

The Iconic placed on our collection, as did a small handful of independent stockists. 


Launching on March 9 2018 was an incredible feeling.

 

We went live on our website at 4pm, sent our 'We're Off the Leash' email to our small database, and soon learnt to recognise the Shopify cha-ching of a sale.

  
From the beginning, I wanted to ensure we contributed to a cause that supported animals. Edgars Mission in Lancefield is a peaceful animal sanctuary, home to over 450 non human, sentient friends.

 

We made the call to donate all gross profits from the sales of our acetate bag charms to this haven.

 

We have since donated $2.5K to Edgars Mission.


VAMFF shows followed, with Ella Murphy + Stuart Walford including some of our Series 1 pieces in their styling, and we were off to a strong start.

 

AWPR had also ensured several beauties strutting the plaza at VAMFF were accompanied by a Sans Beast on their shoulder. 


Disaster struck.

 

The hardware factory thought it would be a *good* idea to flash plate our gunmetal zip pullers.

 

This meant the plating chipped off if you so much as rubbed it.

 

We wrote to all those who'd purchased the impacted pieces, paid for their return, fixed them + sent them all back again.

 

It was embarrassing, costly + time consuming. But, John + I are experts at zip puller replacement now.

 

Silver linings all round.  


Sales were slower than hoped after 2 months; I had sleepless nights worrying that I'd put our savings on the line for something that was going to burn out.

 

Ye of little faith


In April, PETA Australia awarded us Best Vegan Accessories Brand for 2018.  
We shot Series 2 with Scott Newett + his Cubed Studio, with Bec Cole styling.

 

We built the set on weekends, sourced talent from IG + Melbourne Creative Network – and created another small campaign to tell the seasonal story.


We launched into 10 David Jones stores nationally + their online store, in August, with Series 2.

 

DT, Bridget, Liz + Emily - thank you.


Noise Noise Noise designed our DJ's fixtures + we raced to get them manufactured + delivered in time for the launch.


We partnered with Launch Management in September to represent us in the wholesale space in NSW + Vic.

 

The team have been pivotal in introducing Sans Beast to a wider range of stockists.   


We worked on + then delivered a collaboration with Unreal Fur.

 

The small collection was inspired by 2 characters in Where The Wild Things Are – Moishe + Tzippy – and an imaginary meeting in Paris with the intellectual, Simone de Beauvoir.

 

Because who wouldn't want to be at that meeting?


We were listed as a brand to watch for 2019 by Marie Claire + Harpers Bazaar. 


Sales grew + exceeded expectations.

 

Note to self: have faith in the vision.


I made some pretty average decisions in various areas of #smallbusinessmanagement.

 

I'm still living some of those down.

 

Time heals all.


 

We shot Series 3 through with Cubed Studios and Ella Murphy as stylist + co-creative director.

 

Inspired by the colours + lighting of a Caravaggio painting, it is in Series 3 Sensorius where we live right now.


We created sterling silver studs in the shape of our logo, for our first birthday.

 

I admit to bijoux calling to me, and we may explore this further as time goes on.


To (more than) make up for some of the average decisions, there have been highlights on the people front.

 

I'd like to thank my gemini sis Jennifer, Emily, Saloan, Simone, Friska, Blashki, Janice, JoGro, Bec, Ella, Scott, Jesper, Vien, Blair, Cherie at TDP – and of course, my darling John - for their input + support in various ways, over the past year.

 

My friends + family not directly connected with the business, yet who have called me to check in on progress - you know who you are, thank you.


We could not do what we do without quality + connected manufacturing partners - Tony, Patrick + their respective factory teams in China have been incredibly supportive of this Beast.  

 And lastly, thank  YOU, for being on this road with us...
...we've been overwhelmed with the positive feedback from the Sans Beast community as we've built the business over the past year.  There have been highs + lows, but all along, we've had love from you.  Businesses are built one customer at a time, and we are grateful that you've decided to spend your (hard earned) money with us. 
We continue to have big, hairy, animal loving plans as we run into 2019 + beyond.  We hope you will be with us as we forge on  – and still here on our 10th birthday. 
Over + out for now, we've got a candle to blow out."

Cathryn 
X
0 comments